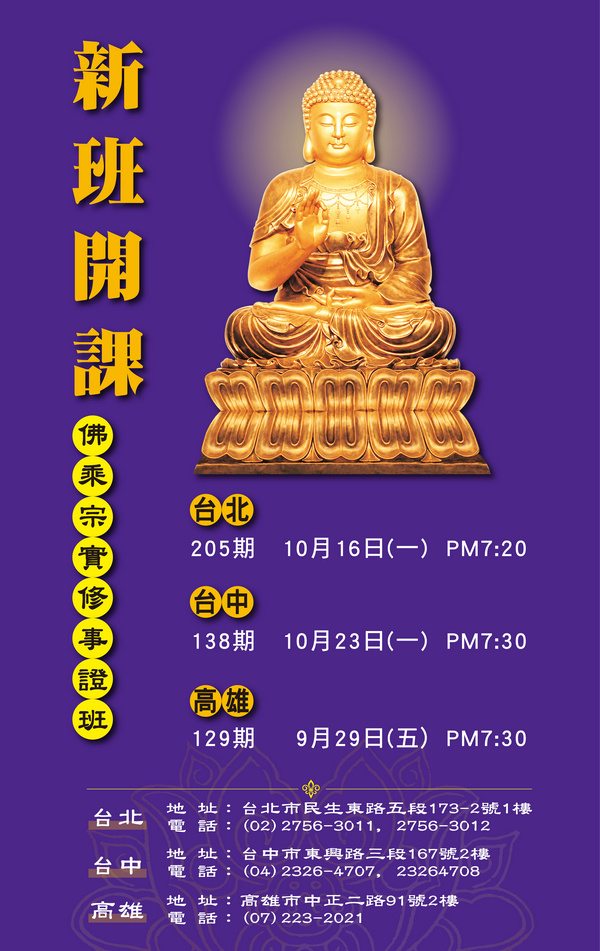 Where are you from? What is the destination you intend to go?
How to make your dreams come true?
Actually everyone hold a lottery ticket in hands, you want to obtain the key to open?
Join us to practice the Buddhism in real life and win your life lottery.
Free trial!
Taipei • New Class Opening

Class No.: 205 Oct 16 (Mon) 7:20pm
Forshang Buddhism World Center.Da-Yuan 大緣 Association, The Forshang Primary Lecture Hall, Da-Fa 大法 Lecture Hall
Tel: +886-2-2756-3011, 2756-3012 Fax: +886-2-2762-4536
Address: 1F., No.173-2, Sec. 5, Minsheng E. Rd., Songshan Dist., Taipei 10589, Taiwan (R.O.C.)

Taichung • New Class Opening

Class No.: 138 Oct 23 (Mon) 7:30pm
Forshang Branch of Central Taiwan: Da-Tong 大通 Buddha Hall, Da-Qi 大齊 Buddha Hall
Tel: +886-4-2326-4707, 2326-4708 Fax: +886-4-2319-1982
Address: 2F., No.167, Sec. 3, Dongxing Rd., Nantun Dist., Taichung 40861, Taiwan (R.O.C.)

Kaohsiung • New Class Opening

Class No.: 129 Sep 29 (Fri) 7:30pm
Forshang Branch of Southern Taiwan: Da-Le 大樂 Buddha Hall, Da-Kai 大開 Buddha Hall
Tel: +886-7-223-2021 Fax: +886-7-223-1947
Address: 2F., No.91, Zhongzheng 2nd Rd., Lingya Dist., Kaohsiung 80274, Taiwan (R.O.C.)